Email Delivered™ Bounce Manager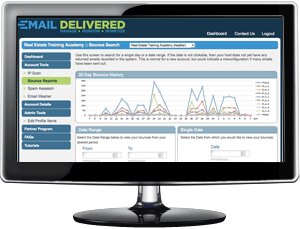 Take Control of Your Email Marketing and Stop Guessing As to Whether or Not Your Emails Are Getting Through (You Can Get the Real Numbers With A Few Clicks of A Mouse)
The EmailDelivered™ Bounce Manager is the only tool that provides you real time, accurate, data about every message that doesn't get delivered and why. With the Bounce Manager, you'll get immediate feedback so you can take action fast.
With this tool, you can stop trying to translate how your email provider determines – and handles – hard bounces, soft bounces, and technical bounces. You're in the driver's seat and never have to worry about getting bogus answers that don't make any sense when it comes to understanding what's going on with your email messages.
The EmailDelivered™ Bounce Manager peels back the curtain and lets you see exactly what's going on with every single message, and lets you monitor your bounces with as much or as little involvement as you'd like!
Eliminate the guessing game of trying to figure out

what's REALLY going on with your list

, deciphering the difference between soft bounces and hard bounces, and whether you're actually even mailing subscribers anymore.
You'll know exactly how many emails are ACTUALLY GETTING DELIVERED, how many unique bounces you've got, and more… Everything is right in front of you at all times.
The Bounce Manager will provide you with a daily detailed report of every message that didn't make it to a subscriber. You'll see exactly who didn't get your email and why it was rejected.
All of your messages will be run through our system, and you'll find out precisely what's going on with all of the messages that don't make it to the recipient.

You can drill down deep to find out exactly what happened, if the bounce was temporary or permanent, and if you need to take corrective action. The Bounce Monitor lets you finally take control over your email marketing once and for all.

This level of detail makes it possible to know exactly what's going on with every subscriber at a simple glance and precisely how many emails are actually getting through on any given day.
WARNING: If you don't properly set up your bounce handling, you can guarantee that you'll be blacklisted from at least one of the major ISPs in 90 days or less. Avoid this fatal mistake that most marketers aren't even aware of.

And remember… You can spend as much time or as little time as you want in the system because WE HANDLE IT FOR YOU and simply notify you when there's something you either (1) need to do or (2) can choose to do in order to increase success rate.
EmailDelivered™ Bounce Monitoring plans start at just $499.00/month.