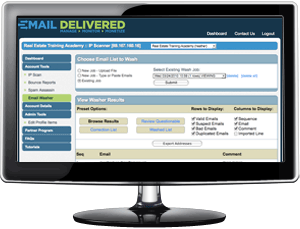 Did you know that it is NOT A CAN-SPAM REQUIREMENT to require double opt-in?
It all comes down to managing subscribers properly, deleting bad addresses, and processing unsubscribe requests quickly.

The Email Delivered™ Email Washer "scrubs" your email list to instantly identify bad email addresses the could get you slapped on a blacklist that's NEAR IMPOSSIBLE to get off of!
With the Email Delivered™ tools, you'll literally be able to maintain your list in as little as 7 minutes a week EVEN IF you've got ZERO technical ability! The Email Washer is one of the first lines of defense.
With a few clicks of the mouse, you can literally clean out hundreds of bad email addresses in minutes which DRAMATICALLY improves your deliverability AND your reputation with email providers.
Bad email addresses not only get you blocked or placed on blacklists, but they also harm your reputation, slow down your server, and hurt the overall efficiency of your email marketing campaigns.
You simply import a mailing list, hit "scrub", and then in a matter of seconds, you'll receive a "clean" list that's rid of bad email addresses and duplicates.
Duplicate emails can unknowingly cause you serious problems with deliverability AND the amount of time it takes for a broadcast to send completely. This is a little-known secret that can save you time and keep you off the "block" lists.
You'll also receive a separate report of extract the bad email addresses and creates a separate list that you can edit, correct, or simply remove.
It also strips out duplicate emails which helps you get emails out to your subscribers faster which is critical when you're sending time-sensitive promotions.
Proper list management lets the ISPs know that you actively manage your list which translates into higher quality scores and a better overall reputation.
Email Delivered™ offers our customers several methods to regularly clean your list to minimize potential problems and keep deliverability rates among the highest in the industry.