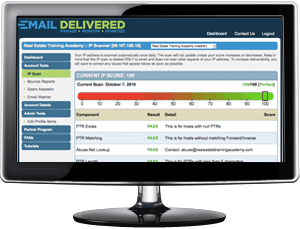 If your IP address has problems, the rest of your email deliverability efforts are a waste of time and resources! Your emails WON'T get delivered if you don't fix this first. PERIOD!
(This is one of the biggest reasons emails get blocked from ISPs).
The IP monitoring tool monitors your IP address daily and checks it against databases that acquire data in terms of email ONLY. There are a lot of DNS and IP tools out there, but none that strictly focus on the health of your IP for email deliverability.
This is your first line of defense when it comes to deliverability. If the health of your IP address is not in good working order, then the rest of your email strategy is ineffective.
The EmailDelivered™ IP Monitoring Tool provides you with a detailed report on the health of your IP address.
The EmailDelivered™ IP Monitoring tool ONLY looks at factors that affect your email deliverability.
As soon as you set up your account, Email Delivered™ will run an initial scan of your IP address and notify you of any immediate fixes, changes or issues that need to be made. You simply follow the checklist to begin correcting IP issues.
Your IP address is scanned once daily, and if there's ever a change, you're immediately notified so you can take corrective action.
We'll give you specific instructions to handle it yourself, or you can use our admin team to handle it for you so you can put this component on autopilot!
Note: 98% of all new accounts have 3 simple IP fixes that can instantly improve deliverability rates.