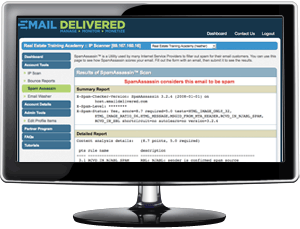 Eliminate the spam triggers that cause your messages to end up in the junk folder or — even worse — cause the email service providers to COMPLETELY block you!
There are 3 main reasons why your email messages get blocked: IP address, domain name or URL, and content. Content is the easiest to control and by properly testing your messages in advance, you can reduce the chances your email messages get blocked for content, or appear spammy.
Our SpamGuard application lets you prescreen your emails to identify potential triggers that may get your email dumped into spam folders.
Getting your emails TO your subscribers is step 1. Getting your emails to the INBOX is step 2!
SpamGuard helps you get your messages through the last line of defense and in front of your subscribers.
"Tricking" the spam filters with things like: "FR.E.E" or "Muney" can get you blacklisted instantly (and kill your credibility with your subscribers).
Use the custom email address to instantly test each message before you send it by sending a test message to our system. You'll instantly receive a feedback report via email so that you can fix any issues before sending your message.
WARNING: this one thing will destroy you when you send out your emails… if you don't do it properly.